Home » Posts tagged 'sexuality'
Tag Archives:
sexuality
This book caused some controversy in it's home country on publication  and featured in Bann
ed Book week this year.
It follows the unsuspecting  'grooming' of Aleksandra, by an older and confident young man.
The novel deals with the a pretty dark and seedy side of life, but one that is all too real. We don't often hear a lot about it here in NZ, but not in Europe where the novel is set.
Aleks is naiive, awkward and totally unworldly – a prime target for Megan, her 'new friend' who finds girls for the 'boyfriends' to exploit and control. Victim blaming plays a large role too.
Definitely for a mature teen reader – and maybe parents out there too.
Radio Silence centres around Frances, who is in year 13 and in the process of applying for university, specifically Cambridge. Frances is known for being the clever one at school, and that's it. At home, she is obsessed with Universe City, an online podcast set in a dystopian society. But this is something she keeps separate from her school life. When the two worlds collide, Frances is forced to make decisions about her future that she had never previously considered.
In Radio Silence, the plot is brilliant and exciting, and the characters are loveable.  Radio Silence characters are also massively diverse, in terms of sexuality, race, academic ability and personality. What I most enjoyed about this was that at no point was the characters' sexuality a massive part of the plot, the book didn't centre around it, it was merely something that was a part of their lives, as it is in reality.
This is a good read that most students will be able to relate to in some way.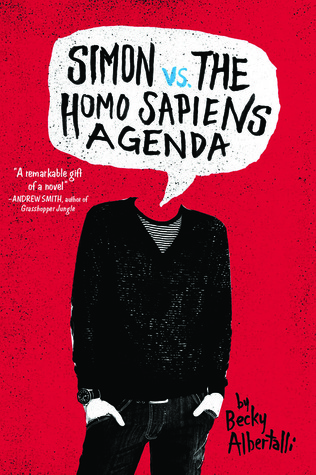 A teenage angst book, not about a teenage girl in 'angst'!!!
Simon sends an email revealing sexuality and it inadvertently falls into the wrong hands – the hands of Martin, who happens to fancy Simon's best friend.
Martin, naturally blackmails Simon – set me up with your friend or I'll share your secrets online!
Simon and his group, go through a couple of rough patches as their friendship is tested by this somewhat strange interloper!
Has all the key elemenst you;d expect in a teenage high school 'drama' – social functions, group work, parenst who do not undertsand, tiffs with friends……
Funny in places, but I felt that the narrative dragged on a bit!